I love rhumba music, that's how I stumbled on the website Congo in Kenya,  an impressive genealogy of Congolese musicians working in East Africa in the 70's and 80's.  But what captured my imagination was a photo (shown below) of a membership ticket to The Starlight Club in Milimani, by then a heaven for performing Congolese artists. To put it into context, in the 80's, Milimani was (and still is) an upmarket neighborhood in Nairobi. Add that to the explosive nature of rhumba music in the 80's and you have a millionaire in the form of the club owner.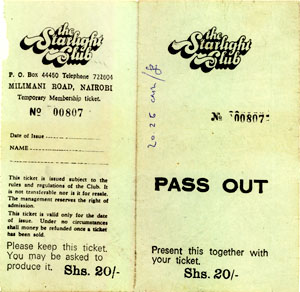 So, I began the quest to know who owned the club and the story begins on 8th September 1980 when James Njau Njenga gets admitted to the Kenyan bar in Gazette Notice No. 3180. The young lad soon hit the ground running by using his registered P.O Box number 44450 (same as on the membership card) on 22 May 1981 to get a license for the bus number KMA 953 to ply Western, Nyanza, Nairobi, Coast, Eastern and North-Eastern and Rift-Valley provinces. It is in the same period that he must have gained ownership of the club after the demise of JM Kariuki who was the director of the establishment.
With the establishment under his arms, the young entrepreneur now had Kenya's bright and influential mingling in the club including James Ngugi later changing his name to Ngugi wa Thiongo and Senior Barrack Obama. Practicing as an advocate of the high court (employment number P.105/1150/80 ), Mr. Njenga took home 150,000 Kshs, factoring inflation and the two known businesses he was definitely in the league of millionaires. In 1994, the curtains came down on the infamous Starlight Club as the Kenyan government through the Attorney General acquired the piece of land (LR 209/1069)  it sat and that's where the magnificent Integrity House sits today.
However, the story doesn't end there. Mr. Njau through a newly acquired post office number P.O Box 62097 setup a private practice at Shankardass House along Moi Avenue from where he fanned out his new "business empire". First up is Thuo Investment Company Ltd, an entity dealing in buying and selling of land and estates. Next up is Afcon Ltd, a company providing resources, knowledge and expertise to the development of safe water to the people in East Africa. Mumbi Properties ltd LR 209/4283
Unfortunately, Mr. Njenga died on 17th September 1997 after  his vehicle registration number KAE 125P was hit by a truck belonging to Pelican Haulage Contractors Limited (registration number KXN041) along Langata Road. His wife, Phyllis Wangui Njau was awarded a compensation worth 5,031,760 Kshs on a ruling rendered on 14th December 2012  by Justice Manyanja and each of his 3 children got Kshs 2 million. Since then, two companies using his old P.O Box number 44450 have been registered namely; Bright Homes in Milimani and Pearl Banquets Ltd operating on Argwings Kodhek. Hope it is the entrepreneurial bug passed from father to child.
References
Afcon. (2013). Contact Us. Retrieved November 27, 2013, from Afcon Ltd: http://www.afconltd.co.ke/contact-us/
Johnston, A. (2013, November 19). Congo in Kenya. Retrieved November 27, 2013, from Congo in Kenya: http://muzikifan.com/shika.html
Kenya Law. (2012). In the Matter of the Estate of James Njenga Njau. Nairobi: Kenya Law.
Kenya, R. o. (1981). The Kenya Gazette. Nairobi: Republic of Kenya.
Republic of Kenya. (1980). The Kenya Gazette. Nairobi: Republic of Kenya.
Thuo Investment. (2013). Contact Us. Retrieved November 27, 2013, from Thuo Investment: http://www.thuoinvestments.com/index.php?option=com_contact&view=contact&id=1&Itemid=54